Is Invisalign worth it: Pros and Cons
Invisalign clear aligners were introduced to the market in the late 1990s as an alternative to traditional metal braces. It is a system of transparent plastic aligners that gradually shift teeth into their proper position. Since they are transparent, they are much more discreet than traditional metal braces.
Dr. Jeremy Kurtz at Invisalign Toronto has the experience and expertise to ensure that you have a successful experience with Invisalign. He has completed more than 4,000 cases and has been granted the coveted award for Top 1% and VIP Diamond Provider.
Since it came to the market, Invisalign has increased in popularity, becoming one of the preferred ways to fix malocclusions. Below, we'll explain some of the pros and cons of Invisalign treatment.
Invisalign Pros
There are many advantages of Invisalign treatment over traditional metal braces. These include:
Freedom

Traditional metal braces require you to make changes to your diet. You may have to give up some of your favorite foods during treatment. However, Invisalign clear aligners are removable. This means that you have the freedom to eat whatever you like- as long as you take the time to clean your teeth after.

Flexibility

Invisalign clear aligners must be worn 20 to 22 hours a day to be effective. They may be removed for eating and cleaning your teeth.

You will be given your entire set of aligners when they come in and be instructed to change them out yourself every 1 to 3 weeks. You won't have as many visits to the office to have anything adjusted. Instead of every 3 to 4 weeks, we will have you come in every 5 to 6 weeks to check your progress.

Easy Oral Hygiene

When you have traditional metal braces, it can be challenging to clean your teeth properly because the wires and brackets get in the way. Plus, if you decide to have your teeth whitened, you'll end up having dark spots on your teeth where the brackets were. Since Invisalign can be removed, you can brush and floss your teeth like you normally would.

Shorter treatment time

The average treatment time with traditional metal braces is 12 to 24 months. Patients with more severe malocclusions may require up to 36 months. However, Invisalign can resolve most cases within 12 to 18 months. Some of the more severe cases may take up to 24 months and some of the easier cases may be resolved within 6 months. The good news is, no matter what, you're sure to start seeing results with your first set of aligners.

They are subtle

Traditional metal braces are made up of brackets and wires and, even with the so-called clear braces, they can still be seen. Invisalign clear aligners are transparent and virtually invisible. Even at close range, most people won't even notice them.

Ideal for a range of issues

Invisalign has been proven to treat a wide range of mild to moderate malocclusions. When used in conjunction with Invisalign attachments, this system may also be effective for the more severe cases.
There are 3 classes of malocclusion:
Class 1:

most common type of malocclusion- back teeth are aligned, but front teeth are overlapping

Class 2:

upper teeth significantly overlap lower teeth

Class 3:

lower jaw pushed forward, causing lower teeth to overlap upper teeth
Crossbite
Crossbite is a Class 2 malocclusion. In this condition, a few of the bottom teeth are located outside the top teeth. A crossbite may involve the front teeth with one or more bottom teeth coming out in front of the lower, appearing like a partial underbite. It may also occur with an underbite so that all of the bottom teeth are outside the top teeth.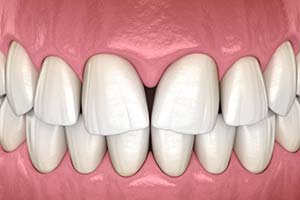 Excessive overjet
Excessive overjet is a Class 2 malocclusion. It is similar to an overbite. The difference is that an overjet is horizontal instead of vertical. The top front teeth are angled and do not touch the bottom front teeth.
Deep overbite
A deep, or excessive, overbite is a Class 2 malocclusion. When the mouth is closed, the front top teeth come down over the bottom teeth more than they should.
Gaps between your teeth
Gapped teeth is one of the most common types of malocclusion. Gaps typically range in size- some are barely noticeable, while others are obvious.
Open bite
Open bite is very rare. This condition is when the upper and lower teeth do not touch when the mouth is closed. It may affect the front or back teeth.
Crowding
Crowding is considered a class 1 malocclusion because it typically only affects the front teeth. This condition occurs when there is not enough space in the mouth for the permanent teeth to grow in properly. This may be due to their jaw not being big enough or due to alignment issues when the primary teeth started falling out.
Invisalign Cons
Just like with any other dental treatment, there are a few cons to consider.
Eating and Drinking
When you eat or drink, you should remove your aligners. This can be challenging because you may forget to put them back in after you eat and toss them out with your lunch trash. You will want to make sure that you carry your case with you at all times so that you do not end up losing them.
Keeping them Clean
Keeping your aligners clean can be a challenge. You must make sure that you are using a soft-bristled toothbrush with non-abrasive toothpaste. You may also consider getting a cleanser specially formulated for clear aligners to soak them in.
Slight Discomfort
While the aligners are not nearly as uncomfortable as traditional metal braces, you may feel some slight discomfort when you first start wearing the aligners and when you switch to a new set. This is because your teeth are being forced into a new position.
Potentially Noticeable
Invisalign clear aligners are transparent- most people won't notice them. However, if you have a complex malocclusion, you may need attachments. These are tooth-colored buttons that are placed on your teeth. When you have your aligners in, they should not be visible- but if you are not wearing your aligners, people may notice the "bumps" on your teeth.
Is Invisalign Worth It: How to Make Your Choice
If you think you might be interested in Invisalign clear aligners to solve your mild to moderate malocclusion, we encourage you to schedule your consultation with Dr. Kurtz and the team at Invisalign Toronto today. We can help you decide if Invisalign is right for you. We are located at  350 Front Street and 485 Lawrence Avenue W.
There are a few things to consider:
How severe is your malocclusion?

Invisalign clear aligners are ideal for mild to moderate malocclusion. Some more complex cases may be treated with Invisalign when paired with attachments.

Are you responsible?

In order to be effective, you must wear the aligners for 20 to 22 hours a day. If you are not willing or able to commit to that, you may want to consider another option. However, if you are willing and able, Invisalign may be the perfect solution for you.

Do you practice proper oral hygiene?

Proper oral hygiene is always critical. If you do not practice proper oral hygiene, you could end up with additional complications, including tooth decay.

Do you have all of your adult teeth?

At Invisalign Toronto, we prefer using Invisalign on patients who have all of their permanent teeth. If you still have primary teeth, there could be some additional misalignment once they start falling out.
If you want to move forward with Invisalign, we look forward to working with you. We have two convenient locations to serve you i.e 485 Lawrence Ave W, Toronto, ON M5M 1C6, Canada and 350 Front St W, Toronto, ON M5V 3W7, Canada. Our office hours are Monday through Thursday 9:00 AM to 6:00 PM and Friday 9:00 AM to 2:00 PM.
Invisalign FAQ'S
Invisalign Toronto specializes in Invisalign treatment. Dr. Kurtz has treated more than 4000 cases. He has been named as a Top 1% and Diamond Provider by Invisalign. You can trust us with your malocclusion. That being said, we get a lot of questions about Invisalign treatment. Some of the most common include:
Can you eat with Invisalign?

When you are eating or drinking, you should remove Invisalign to avoid damaging or staining them. The good news is, since they are removable, you don't have to deal with diet restrictions like you do with traditional metal braces.

How does Invisalign work?

Invisalign clear aligners use SmartTrack technology to place even pressure on your teeth to shift them into their appropriate positions within the jaw. Each set of aligners is slightly different to facilitate the gradual shift.

How long does Invisalign take?

On average, Invisalign solves mild to moderate malocclusions within 12 to 18 months.

How long do you have to wear Invisalign?

Invisalign clear aligners should be worn for 20 to 22 hours a day. At the end of treatment, you will be given a retainer. Dr. Kurtz will instruct you on how to gradually reduce your time wearing the retainer until you only need to wear it at night.

Can you chew gum with Invisalign?

You should not chew gum while you have the aligners in. However, since they are removable, you can chew gum when you have them out- just make sure that you stick to the 20 to 22 hours a day rule as much as possible.